Archaeologists have unearthed the fossilized skeleton of a 72-million-year-old dinosaur tail in the desert near the town of General Cepeda, Mexico, said the National Institute of Anthropology and History of Mexico (INAH). Coahuila, Mexico.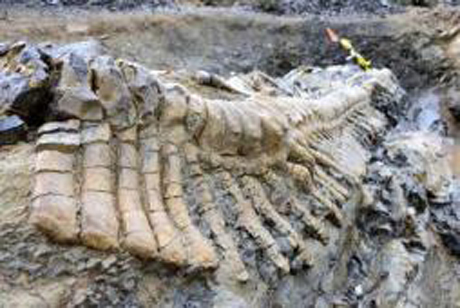 New 5m long dinosaur tail unearthed in Mexico. Photo: Reuters.
According to INAH Director Francisco Aguilar, this is the first time a 5-meter-long dinosaur tail has been found in Mexico. Archaeologists have worked very hard to excavate these 50 tail vertebrae intact in 20 days from a layer of sedimentary rock. Scattered around the tail are fossilized vertebrae of the dinosaur's hip.
Experts said that this "big" tail could belong to a Hadrosaur or a duck-billed dinosaur and it could account for up to half the length of the dinosaur. The results of the excavation, which are relatively rare, are considered to be able to provide further insights into this dinosaur as well as aid in the study of dinosaur bone diseases.
Many fossil bones of dinosaurs have also been found in the state of Coahuila.