In U.S. defense circles, people often hear the term "elephant walk." It's no surprise that some might scratch their heads but others will know exactly what it is.
To put it succinctly, an elephant walk is a term used by the U.S. Air Force for the taxiing of military aircraft in close formation right before takeoff. The benefits of this are not only to show military force but to also prove that teamwork is top-notch and they are great practice in case of an emergency situation, which might call for many bombers to take off and attack on short notice.
Late last year, there was one particular elephant walk that all aviation enthusiasts needed to see. Eight U.S. Air Force B-52H Stratofortress bombers were lined up on the runway at Barksdale Air Force Base in Louisiana.
According to military writer Peter Suciu, "this most recent show of force of the Cold War-era bombers, which took place last week, was part of a readiness exercise conducted to ensure that the 2nd Bomb Wing remains fully able to provide winning combat power."
In recent years, the U.S. Air Force has been increasingly conducting elephant walks as a demonstration of the next-generation capabilities of its bomber fleet for the entire world to see.
Take note that a similar elephant walk was completed in April in Guam that involved five B-52H bombers. According to the 36th Wing website, the elephant walk was meant to demonstrate the ability to "generate combat airpower at a moment's notice to ensure regional stability throughout the Indo-Pacific."
That display of force was likely directed at China and North Korea, according to former Air Force officer Ralph Cossa, per Military.com.
"They want to signal that, despite the problems with the carrier, we still have forces with the ability to respond," he was quoted as saying.
"We want to show we are still ready to respond," he added.
Last December, more than thirty fighters and two refueling aircraft put on an elephant walk at Eielson Air Force Base in Alaska. Taking part were the 354th Fighter Wing and the 168th Wing Air National Guard.
"The elephant walk isn't only to practice our abilities to respond quickly," said U.S. Air Force Col. David Skalicky, 354th Operations Group commander, per Business Insider.
"This is to show our airmen who work behind the scenes what Eielson AFB is about. It's about showing our strength in the Arctic arena," he added.
Col. David Berkland, the 354th FW commander, noted that "every airman across the fighter wing contributed to today's event, and we proved what our team is capable of … supporting, defending, or delivering fifth-generation airpower and advanced training."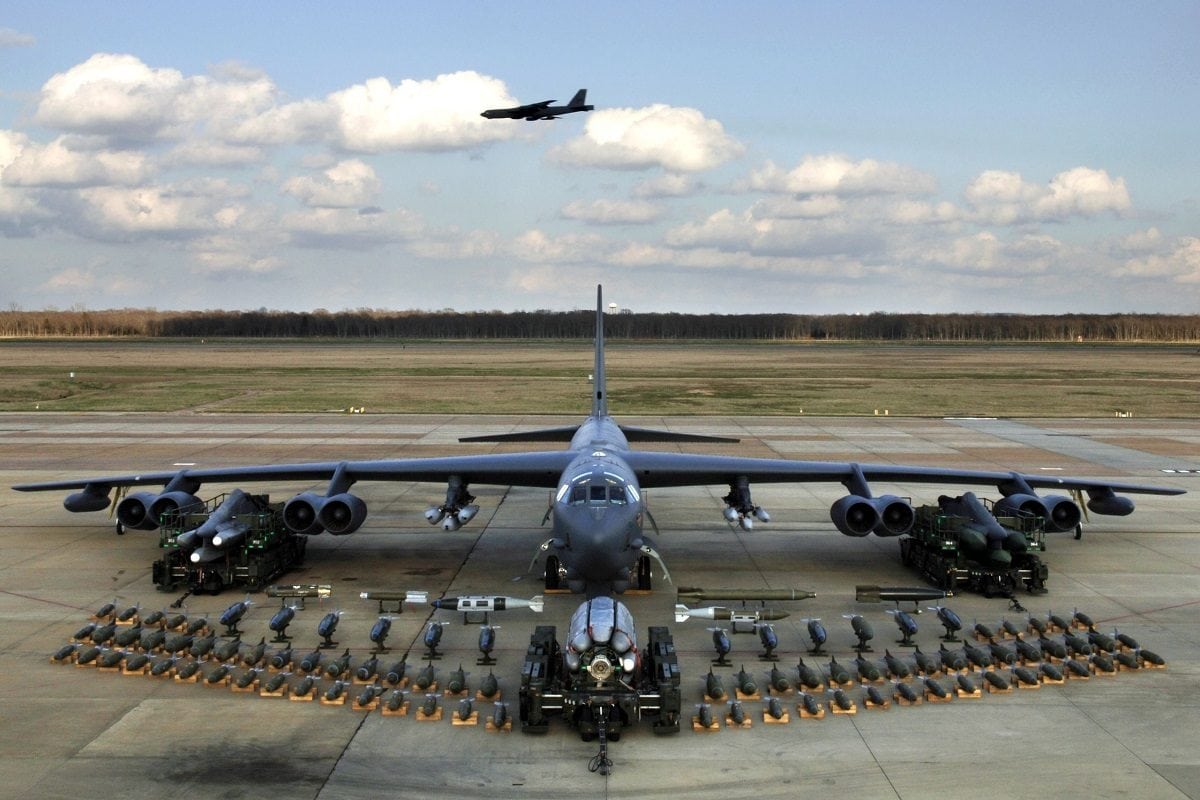 A U.S. Air Force Boeing B-52H Stratofortress of the 2d Bomb Wing static display with weapons, at Barksdale Air Force Base, Louisiana (USA), in 2006.