The MBT Revolution is a modular upgrade package to the Leopard 2A4 main battle tanks. It was developed by Rheinmetall. This MBT was first revealed in 2010. It is also referred as Leopard 2A4 Evolution. The Leopard 2A4 was the most widespread version of the Leopard 2. It is still used by a number of countries in large numbers. So the market for upgrades remains substantial. Indonesia plans to obtain 61 Revolution MBTs.
The Revolution main battle tank is better suited for urban ωαяfare and low-intensity conflicts. It is worth noting that original Leopard 2 tanks were developed during the Cold Wαя and were intended for high intensity conflicts based on tank battles in open terrain. The tank has improved overall protection. It is fitted with new Advanced Modular Armor Protection (AMAP) composite armor package. It uses new nano-ceramics materials and modern titanium and steel alloys. This armor provides higher level of protection against wide range of threats. The AMAP armor can be done is different compositions and armor configuration depends on customer requirements. Various configurations do different jobs. Some are used for RPG attacks, the other are used for IED attacks. The tank is also fitted with a mine protection package. This MBT has a modular armor, so damaged modules can be easily replaced in field conditions. Tank is also fitted with new Rheinmetall ROSY smoke grenade dischargers. These set up a smoke screen within 0.6 seconds. Overall the Revolution MBT is less vulnerable to ambushes, RPG rounds, anti-tank missiles, improvised explosive devices and mines.
The Revolution MBT is only slightly heavier than its predecessor. It weights 60 t, comparing with 56.6 t of the original Leopard 2A4.
In 2010 Singapore upgraded its 96 ex-German Leopard 2A4 tanks with the AMAP composite armor, which is a part of the Revolution upgrade package. Upgraded tanks are known as the Leopard 2SG.
The Revolution MBT retains a fully-stabilized 120 mm/L44 smoothbore gun of the Leopard 2A4. The gun is loaded manually. It is compatible with all standard NATO 120 mm tank munitions, as well as the latest programmable HE rounds. These rounds enable to engage targets behind cover and within buildings. A total of 42 rounds are carried for the main gun. 15 rounds are stored in the turret bustle and are ready to use, while remaining rounds are stored in the hull.
The Revolution MBT is also fitted with a remotely controlled ωєαρσи station, armed with a 12.7 mm heavy machine gun. There is also a coaxial 7.62 mm machine gun.
This main battle tank is fitted with new state-of-the-art fire control system. It has improved first round hit probability. The Revolution MBT also has improved reconnaissance and observation capabilities. The commander has new 360° periscope, which gives the vehicle a hunter/кιℓℓer capability. The tank is also fitted with a battlefield management system.
Vehicle has a crew of four, including commander, gunner, loader and driver.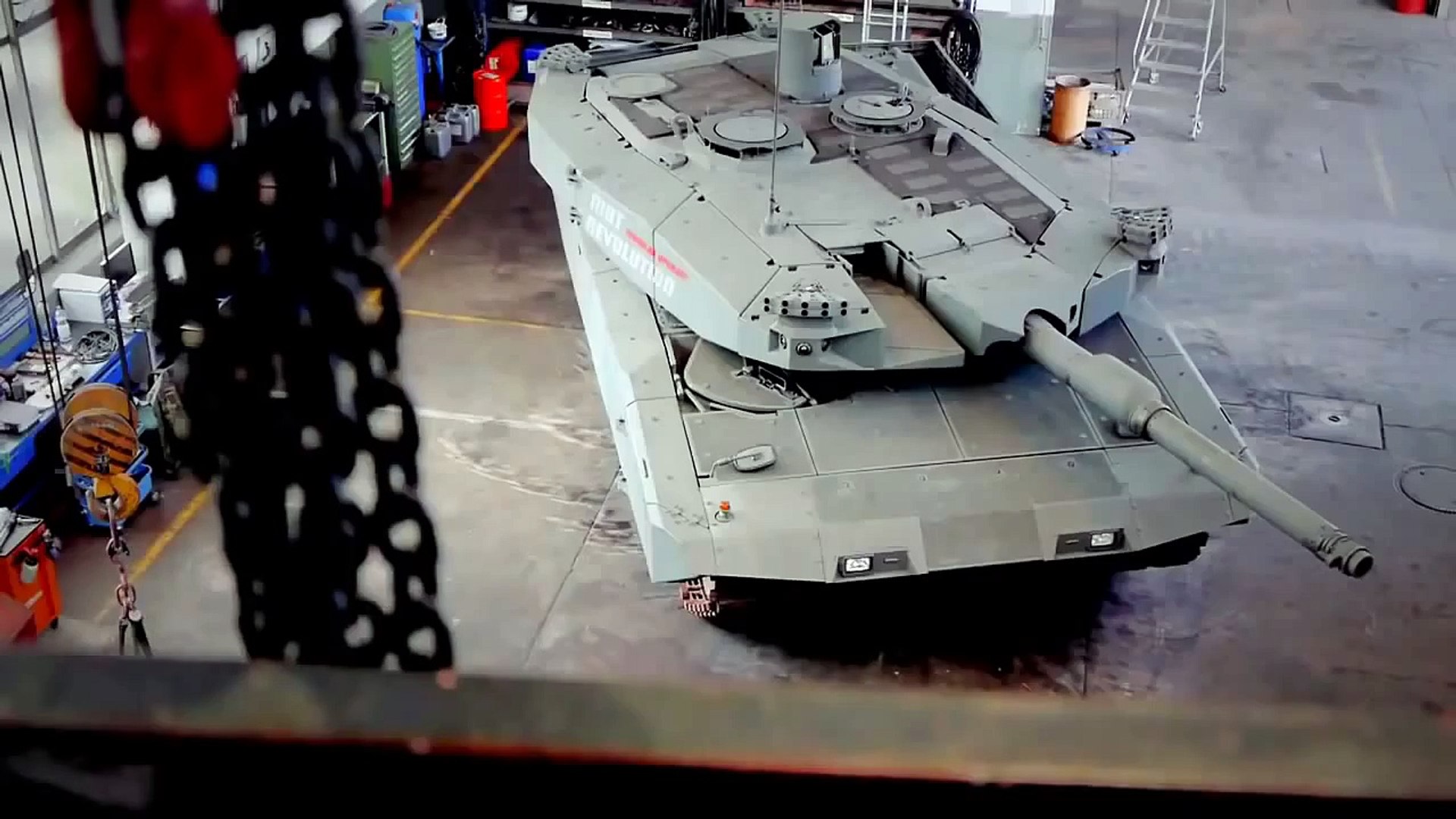 The Revolution MBT also retains the MTU MB-837 Ka501 turbocharged diesel engine, developing 1 500 horsepower. Vehicle is fitted with auxiliary power unit, which powers all systems when the main engine is turned off. Cross-country performance is similar to that of its predecessor.
Since 2011 a broadly similar upgrade programme is offered by the ASELSAN of Turkey. These are referred as the Leopard 2 Next Generation. It was locally developed as a private venture to meet a possible requirement of the Turkish Army.