On September 17, 2022, NATO's Alliance Ground Surveillance Force (NAGSF) staff landed one of its RQ-4D remotely piloted aircraft call sign NATO14 at Sigonella Air Base, Italy.
NATO AGS Force Receives RQ-4D Aircraft Back with Upgraded Capabilities
The NATO Intelligence, Surveillance and Reconnaissance (ISR) aircraft received a technical upgrade – the so-called Maritime Mode software upgrade – and underwent comprehensive testing with the Northrop Grumman manufacturer in the United States. Around noon on September 17, the RQ-4D touched down at Sigonella after an almost 21-hour flight from Edwards Air Force Base the United States. The NATO's Alliance Ground Surveillance Force presently has an Initial Operational Capability.
The RQ-4D remotely piloted aircraft was at the manufacturer for an upgrade, to be fitted with the Maritime Mode, which enhances the NAGSF's ability to detect and track vessels moving on the surface of water and identify non-cooperative targets using Maritime Inverse Synthetic Aperture Radar or MISAR.
This technical upgrade adds an enhanced feature to the RQ-4D, which offers the Alliance and all its members an increased capability to collect ISR products. After returning to NAGSF's main operating base inside the Italian Air Force Base at Sigonella, Italy, the technicians are now integrating the aircraft back into the Force's operational schedule. Very soon, the other four RQ-4Ds will in turn receive the same upgrade directly at the NAGSF main operating base.
The RQ-4D remotely piloted aircraft – call sign NATO14 – landed safely at NATO Alliance Ground surveillance Force (NAGSF) Main Operating Base on the Italian Air Force Base at Sigonella, Italy. After being integrated back into the operational schedule the upgraded aircraft will deploy to conduct missions collecting critical Intelligence, Surveillance and Reconnaissance products supporting NATO and all Allies. (Photos by Christian Träger/NAGSF)
"The return of this aircraft marks a major milestone for AGS and the Alliance. The upgraded sensor dramatically improves NATO's ISR capability by enabling effective collection in the Maritime domain," said Brigadier General Andrew Clark, NAGSF Commander.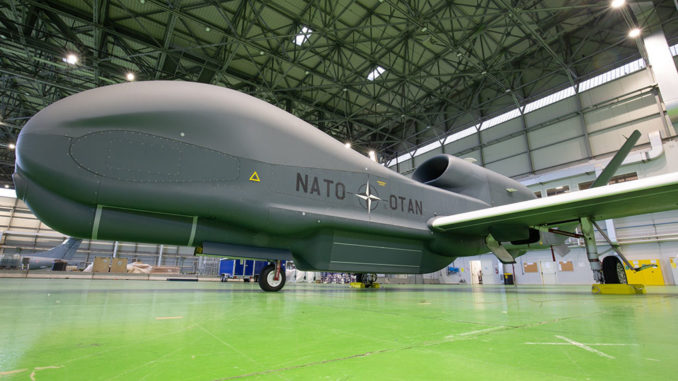 Operating out of temporary facilities at Sigonella, the Force has conducted ISR collection flights for the Alliance since 2020; its contribution to the indications and warnings is constantly increasing; the Force is also a schoolhouse for the ISR community working towards turning students into trained and qualified ISR experts to enhance both NAGSF and their home nations' ISR effectiveness.
The AGS core features a combination of ground, air, and mission support segments that provide near real-time, persistent wide-area terrestrial and maritime surveillance in all weather conditions during day and night. It also incorporates advanced sensor technologies. NAGSF supports Alliance members in a range of missions including indications and warnings, support to crisis response operations, anti-terrorism operations, border control and maritime safety, and humanitarian assistance operations during natural disasters.